SUNDAY WORSHIP
Our  9.30am Sunday service morning consists of a one hour service including classical church music, informal sharing time, readings, prayer/meditation, reflection, modern hymnody married, in the main, to classical hymn tunes. There is Communion on the first Sunday of each month.
WORSHIP: Sunday 27 November 2022 
Communion
Worship Leader: Rev Sheena Dickson
Welcoming you: Barbara & Kelvin
St Ninian's Sunday Worship on Zoom:
Meeting starts at 9.30am
Join Zoom Meeting
https://us06web.zoom.us/j/86462027230?pwd=TDN3TFBhWXVsMjVpZk5UWVdON05JQT09
Meeting ID: 864 6202 7230
Passcode: 942950
(Please make sure your microphone is turned off (muted). Otherwise your voice (or any other sounds in your vicinity can be heard over the service. Click on the microphone symbol at the bottom left of your Zoom screen and select "mute" or turn "off".)
MUFFINS (Morning tea/coffee)                                                                                                                   This friendly, lively chatty group is held in the Puriri lounge on Thursdays at 10am.  Take a small plate of food to share, when possible. Friends are very welcome also. This group is not Parishioners only.  Want to join us? Contact the office, or just show up!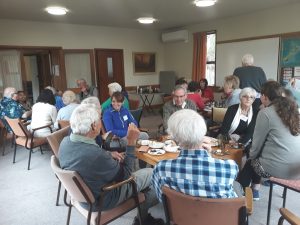 BLOKES' GET TOGETHER
There is usually a monthly BBQ at 6pm at St Ninian's with a cost of $10 to cover the cost of the food. It is a BYO drink. Anyone welcome. Enquires to Lance, on 339 2913 or lance.mckechie@gmail.com. All are welcome to bring a friend.
USED POSTAGE STAMPS
Jean Fryer is accepting used postage stamps for the Presbyterian Church.
Contact the church office for more details about the many groups centered at St Ninian's: 
Parish Office: ph:03 348 6418, stninians05@gmail.com.  
OFFICE STAFFED:
Wednesdays:    12.30pm – 2.30pm
Thursday:          9.00am – 12.00pm
Friday:                9.00am – 11.00am